DINING
It's a question of choosing the right place for the occasion. That does not always mean super swanky restaurants. Sometimes more atmosphere is required, and other times less noise is valued most. Some privacy even.
Our Dining service is talking with you about what kind of eating experience you wish. Suggesting the #BestOptions then making the reservations and arrangements.
There is of course a cost to this service. We are humans making arrangements for people. There is not (yet) an app for that.
Helping you choose where to eat is a personal service and we are happy to share our own joy of great eating experiences in making the detailed arrangements for yours. No matter how simple.
This can be a romantic table for two, or an extravagant private dinner at home, in the boardroom or magical location. From hero chef, to floral artistry and after dinner entertainment. We know the best private dining rooms.
When it comes to private dining events, we work with marvelously creative and technical specialists to deliver dinners of all scale. We act like your personal event project office. Co-ordinating all of your preferred suppliers, as opposed to imposing our own in house teams or stock on your ideas.
So, when we say dining.....we do not mean just eating.
Making Great Restaurant Reservations For You
We run something like a small dining club, where we suggest and make reservations throughout the year for the same people, families or companies.
Various memberships and subscriptions are available, starting from only a few hundred pounds for the first series of reservations and initial access to this service. We bring back the joy of getting the table.
Making Beautiful Private Dining Arrangements
Our professional fees can be calculated between 10 -15 % of all expenditures depending on the scale and complexity and subject to sensible fee minimums - and maximums. Let us first discuss ideas & possibilities.
The Joy of Getting The Table Right
Part of our magic ability to get the table for you, is that we work with lovely clients. Restaurants the world over are always delighted to host lovely guests. Our recommendations are based on admiration. Most importantly the cooking, but also on plaudits for the design and feeling.
If you believe the location must always fit the occasion but are sometimes stumped for ideas, then this is where we can make life easier for you. Our #RestaurantNinjas ensure we are up to date with the latest and greatest. We suggest best options and book it all for you.
By working with you throughout the year on your dining plans, we can make sure you experience all the restaurants on the wishlist.
Sometimes You Actually Can't Get The Table
No one can ever always guarantee to get you the table. What if the restaurant was closed for a private exclusive use event? This is a growing trend, and one possible reason why you can't always get your first choice table.
Knowing this means our clients have already moved on from this on the rare occasions when the first choice table is not a possibility. Those times are when serendipity usually takes care of any possible disappointment. These times mean new discoveries are possible and likely.
Anyway, we are not big on client meltdowns on the telephone to us or at a restaurant so we like to set expectations around such moments.
On the occasions where plans are changed last minute, or when restaurants are simply unable to confirm your request, then perhaps this is when you would value our dining service most as it saves you having to make all these extra calls yourself, or need not waste your Assistant's time even doing this.
Eating Well & Booking Easily
Has anyone eaten in every single restaurant in the world? Our clients and network of restaurant ninjas enjoy the world's best; and that is how we keep up with the latest and greatest. Our lists are not compiled by a single person's food journey - they are shared recommendations of experts and insiders.
Speak with One Person.
Our service secret is that you always speak with the same person to get it all organised. The joy of that these days.
Clients call us, we discuss a few ideas. We speak with the restaurant and we respond with checked availability and confirm the chosen table then.
We can communicate this via telephone, whats app, video call or DM Instagram - whatever method you prefer - to ensure this is a fast and live process that suits you. No extra apps or passwords for booking a table with us. Just people.
When we say we run a small dining club, we mean you are part of a very well attended small community of selected and respected clients.
See some previous #BestOptions suggestions
Private Dining Rooms & Chefs
When something more than dinner is required, trust us to organise an exquisite dining experience. Remember that in the same communication with us, we can also organise any required transport, accommodation or indeed after dinner speakers or entertainment.
Flowers
If you would like to order flowers for the table or room. Or to send thank you flowers to the Host next day, again, this can all be organised via The Modern Concierge.

Flowers are a passion here (look at our #FlowersEveryDay on Instagram) so we know the best florists and creatives.

From super stylish single varietal seasonal cut flower bunches from Flowerbx to an artistic extravaganza when lunch needs a greater floral punch. As it were.
Restaurant News & Reviews on Social
Follow us on Twitter & Instagram to see more about the places we recommend. Below are a handful of current restaurant suggestions, indicating what you may expect from us by way of suggestions.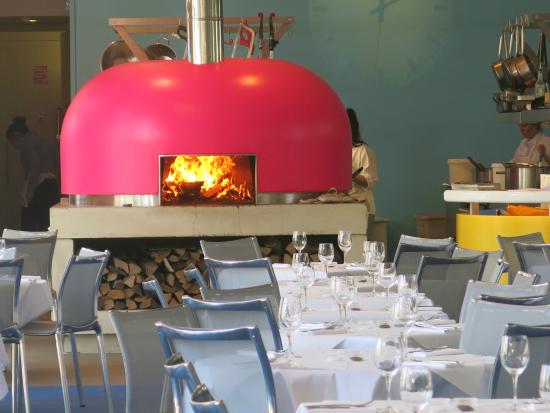 The River Cafe
Architecture and design converge with accomplished and modern authentic Italian cuisine. The enduring success of the River Cafe is testament to the long reigning purity of the concept and cooking. The wonderful wine list features the sublime Capezzana wine and olive oil estate near Florence. A fine pairing of provenance and Tuscan taste. The very best.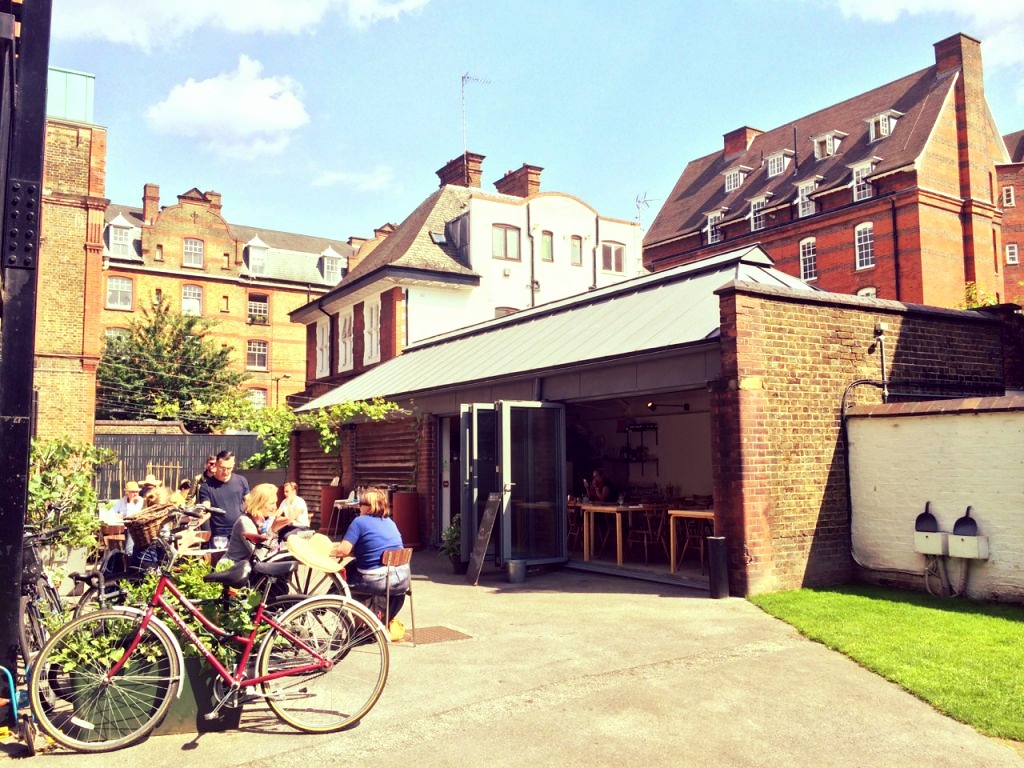 Rochelle Canteen
Some say the ultimate foodie find in Shoreditch and where the best informed are most likely to be found enjoying a low key BYOB lunch. Most particularly so on fine and sunny days. The food is modern British, with culinary lineage, and delicious. Simple genius that reminds you of the seasons. This wonderful canteen is only open during daytime.
Sushi Tetsu
Have you heard of this place? It's one of the reasons one can ever honestly guarantee reservations. This 7 seat sushi purist haven in Clerkenwell is perhaps the closest thing to invitation only Tokyo dining you may find in London. Seven star sushi. For the art and love of sushi.
The Palomar
Offering one of the great kitchen counter dining experiences in London, This always busy Soho jewel serves superb Mediterranean infused flavours of Jerusalem. The intimate, always busy, table seating at the back adds to the bustle.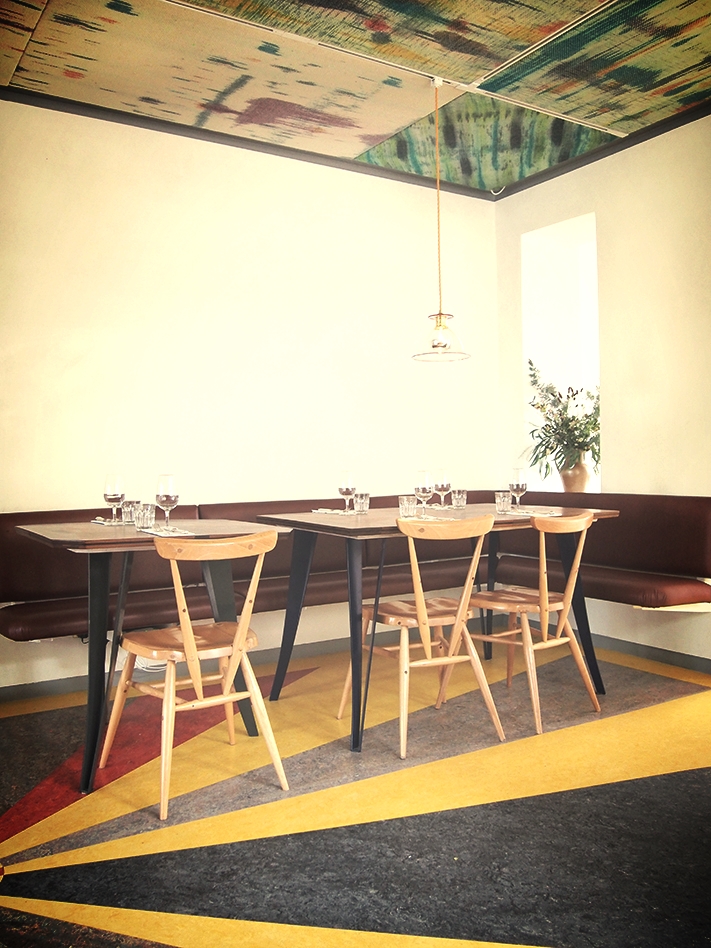 The Marksman Public House
Some of the best food in London right now, cooked by St John alumni Tom Harris and Jon Rotherham. Taste and texture served with realness in a smartly wood panelled pub. Design buffs request a table upstairs to enjoy the more modern Martino Gamper interiors. Delicious all round. Look out for the special CookBook Dinner series where guest chefs are invited to create a tasting menu, with dishes chosen from their favourite cookbook.
Islands
For a peculiar reason we specialise in private islands. Trust our experience to organise a wonderful romantic escape for the two of you (or even a Robinson Crusoe for one), for family holidays during celebration weeks or exclusive use of entire islands for larger private gatherings.
We are highly experienced in bringing these ideas creatively to life, including coordinating guests travel arrangements, by either commercial or private jet.
Speak to the owner on +442070601060 to explore the ideas and possibilities.
Where in the World?
There are private islands all over the world, in every clime and continent. We have our own private island clubhouse in the Bahamas where our members enjoy exclusive access and benefits.

Islands can be rented entirely for your exclusive use for corporate or social gatherings. Some private islands make individual properties available during 'celebration' weeks for those seeking the experience but don't need an island to themselves. For solo, couples or smaller group escapes.
Simply call us in London on 0207 060 1060 and we can help find your slice of paradise.
You can also talk to us about creating business content for meetings and incentive trips. We can deliver a most effective programme in wonderful environments to create change and connection.
Kamalame Cay, Bahamas
This 97 acre barrier island sits between Andros (the largest, least developed landmass in the Bahamas) and the world's third largest reef. Perhaps the quietest spot in the Caribbean. These pure shores are silently famous world over for the kingly sport of bonefishing which the family offer as experts and ecologists with a strong sustainability message. This reef island is home to the Hew family and they work wonders to continually reduce the carbon footprint of the island - it's their forever home.
The environmentally minded will love it, not least to explore the adjoining national park island of Andros, it's enormous expanse of forest and mangroves are to behold from the air, the pink flamingos, the manta rays, the manatees and darting bonefish. The mysterious blue holes inland, for cliff jumping thrills, and eco adventures.
The island is deserted it seems. Beautiful, barefoot chic individual beach front villas are available throughout the open year (Oct - Aug, dates vary). Beach front plots are available for sale along the 3km stretch for those who really have the private island dream. The Hews design & build the dream with you. The resort also manage rentals of the substantial privately owned beach front properties as well as the charming array of individual suites, cottages and villa within the resort estate.

CN Traveller described this international mix of island guests and residents all hosted by the Hew family as being 'like Mustique 50 years ago'.
These days the island itself is run by the new generation, son David and his husband, Mr. Michael King, the luxury hospitality and tech entreprenuer. This makes for a modern island experience. The Hew-Kings host a monthly sunday social when others gather from neighbouring islands by helicopter, boats and seaplanes. Or jet in from Miami, New York or Toronto.
Guest Chefs, Guest Wine and Guest Guests make for a very jolly day. Such monthly Sunday's are preceded by the weekly Saturday, all island get together for sunset cocktails and then a dramatic tiki lit single table in the sand, twinkling with candles and bright shining starts in the unpolluted sky above. That's a private island weekend.
You Want It ALL
When it comes to private islands, the dream of course is taking the entire island, if not forever then certainly for a vacation or special gathering. This is what we enjoy doing. Whether you want the whole place for just to the two of you, or simply a little bolthole on the beach for two, we can do that for you.
5 Day Trips & 3 Day Trips to Kamalame Cay
If you have something special to celebrate, then a 3 or 5 day stay on this island could be sufficient to escape and replenish.
See Kamalame Cay, our clubhouse for members, in its full glory within its own home page square. Getting to the island can include arrival by helicopter or seaplane. Literally walk up the beach to your house. First step is to get to Nassau or Miami first!
We can get you there by commercial flight or private jet. Call The Modern Concierge in London on 0207 060 1060.
Need We Say More Island
Necker was probably the first private island that most ever heard about, perhaps except Tracy Island for the Generation Thunderbirds. We can organise your Necker experience from all island rental to securing individual rooms and pavillions during the Celebration Weeks. Imagine a week for two costing from around US$30,000. In a single call to us we can make the island booking, securing the best available room, and also make the international and internal flight and transfer arrangements. This way, your arrival is anticipated because we have planned ahead with the island managers.

We can book private jet travel or commercial flights using the super secret 'Friends of Richard' service. Guess which airline?
Calivigny Island
Calivigny Island combines opulent accommodation and unparalleled service set in exotic Grenada. Spread over 80 lush acres with six sandy beaches and sweeping views of the Atlantic and Caribbean oceans, Calivigny is renowned to be one of the most exquisite and exclusive vacation spots in the world. Two Balinese and French Colonial-inspired residences and three custom designed luxury cottages provide accommodation for up to 50 guests. Your own private resort experience boasts a fleet of gleaming boats, private chefs, and a host of thrilling activities for the adrenaline inclined traveler and for those who just prefer to soak up the sun and completely unwind.
Calivigny Island is approximately a 5-minute boat ride from Grenada, West Indies. The nearest airport is Maurice Bishop International Airport in St.George's, Grenada. This international airport can receive private carriers of any size. There are year round direct flights from London, New York & Miami. Guests may also travel to any other Caribbean Island and then either charter a private plane or use LIAT Airlines to access Grenada. Private Return Airport transfers are included.
Isle of Eriska, Scotland
This is a perfect taste of island life in Scotland. Rooms are available all year round. This near 300 acre lake (loch) island is on Loch Creran, a designated special area for marine conservation.
This pristine environment is home to a wonderlife array of wildliife, and also, outdoor country pursuits including a course on the ilsnad itself. Eriska has a modern spa for restorative treatments.

It's a romantic island that offers couples the chance to disonnect, if only for 48 hours. You can get there via jet and helicopter, or train, or car. The island is accessed only via a boarded road bridge - which makes a wonderful sound to arrive and depart to.

This family run and much loved hotel offers every modern luxury, the rooms are glorious, and the setting is magical. Perhaps its the service and warmth from the Buchanan family and their team is what makes a stay here unforgettable. Book yourself or we can do it all for you having stayed there before.
Peace, tranquility and as much or as little to do as you wish. The Scottish private island life. Weather can be changeable but the experience is unforgettable.
Cocoa Island, Maldives
When you want the private island dream, but you don't want a whole island. Cocoa Island is a spit of sand in the South Atoll in the Maldives. Perfect for crusoes, couples and familes seeking a haven in paradise. Take you pick from the iconic dhoni boat shaped over water suites. Take a dhoni loft suite for the extra space or splash out on the dream like water villas of varying expanse. The underwater world there is your very own you will Nemo experience. Giant napoleon fish, gentle giant whale sharks and magical manta rays. Delicious food, zen atmosphere and the Shambala Spa complete the experience.
Private Island Proposals
You may not be imagining a romantic dinner like the candles being lit in the above picture of Cocoa Island. Whatever you are dreaming, or even if you just need some inspiration, we can help you organise just the right moment for you. Here are anywhere else.
Throughout the year we work with Air Partner plc to create private jet travel experience using full charter or the wonderful value of empty legs. As this example from earlier this year...
Leap Day Empty Legs
Are available for 29th February 2016 to a wonderful choice of destinations across the world, just in case you need to make up for Valentine's Day or want to make the most of the leap year and pop the question? A simple call to The Modern Concierge and we can sort it all. Call us in London on 0207 060 1060.
#ItsYourLoveStory click on the hashtag to read the Air Partner story on romantic private jet escapes.
Jets
That majority of frequent private jet flyers will tell you it is about having total control of time. Private flying opens up many more airport choices to get you closer to where you want to be. And of course you get to choose at precisely which time. That is the necessity of it.
We won't be told there is an app for private jet bookings. The market means people need to speak to people to get the right jet at the right deal. Under the right contractual terms and guarantees.
This is why we work almost exclusively with Air Partner plc.
#GetJetGo
Each week we publish a list of private jet empty legs in association with Air Partner . In Summer 2014 we launched the first dedicated empty leg service between London and Ibiza.
The innovation continued in 2015 when we launched the first The Modern Concierge JetCard with Air Partner. This introduced fixed price jets for the first time ever, on the Ibiza to London route.
We look forward to announcing our exciting Air Partner services for Summer 2016 with the launch of our The Modern Concierge #IBZ16 JetCard, powered bi Air Partner.

Prices to Ibiza start at around GBP11,950 for the entire aircraft, with six seats. Call us for full details.
We offer an assured booking service for jets, backed by the global support and plc strength of Air Partner. We work with them because of their superb service, quality and safety standards.
Through Air Partner we are able to offer our clients 24 hour jet booking service plus a request-to-fly time of usually 4 hours or less from most airports in the world for 'Go Now' charters on demand. Sometimes the time is less than two hours between call and take off.
Follow us on Instagram or Twitter or sign up for our newsletter for details of our weekly empty leg deals offering discounts of up to 70% for short notice flexibility.
The value of having us book your private jet is being able to have ground transport, accommodation, dining and destination experiences booked in a single trusted source call. The entire experience from end to end.
24 HOUR JET BOOKING:
Our lines are open from 8am until 8pm UK Time. Out of hours call Flight Operations at Air Partner plc on +44 (0) 1293 742800 for immediate attention.
#IBZ16 JetCard, powered by Air Partner
Available with notice, the #IBZ16 offers our members and clients of Air Partner access to guaranteed availability, fixed price private jet flights between Ibiza and London.
Simply tell us the number of passengers; choose from morning, afternoon or evening take off slots and leave the rest to Air Partner and The Modern Concierge.
Prices start at GBP11,950 for a 6 seat jet. The price is for the entire aircraft, irrespective of the number of passengers flying.
Services launch the last week of May. call us on London 0207 060 1060 to register your interest.
In addition to the #IBZ16JetCard we will also publish empty leg availability updates throughout the summer. For Ibiza and other requested destinations around the world.
Smooth as...
We work closely with Air Partner to ensure seamless travel plans, wherever you are flying to in the world. In addition to the 24 hour flight operation of Air Partner plc, The Modern Concierge takes the pain away from making ground transport, onward travel and accommodation arrangements for you via a single communications point with us.
Empty Leg Concierge Service
Click for video
If you ever feel like suddenly jetting off somewhere for a whimsical lunch or nights away. We coordinate empty leg bookings with making hotel, transport and experience arrangements for your private jet adventures. This is our very best serendipity service. #ItsYourLoveStory
See us on Instagram for details of the latest possibilties.
Florence
Florence is a very special place for us. Throughout the year we regularly set up office there. We keep private apartments in Florence, some not available via any other source and only by exceptional arrangement.
Our wonderful but private portfolio of apartments dotted around the best locations mean you can experience this wonderful city as the locals do. With genuinely local insight and assistance, plus the peace of mind not provided by mass market apartment booking websites.
Or we can organise sumptuous suites in the best hotels to suit your travel aesthetic. Chic boutique, contemporary classics and the grandest Florentine luxury hotels.
You choose: rooftop pool views from within the city, or views from above Florence in the hills of Fiesole, opposite, from Boboli looking back; next to the Duomo or on the Arno, overlooking Ponte Vechhio.
Booking a hotel via The Modern Concierge means we speak with the hotel management, making arrangements ahead of time to ensure your arrival is smooth and anticipated by the hotel team.
Simply by making a single call to us on London 0207 060 1060 you can access The Modern Concierge Florence experience.
To get you there, we are able to organise private jets or commercial flights. We work closely with Air Partner plc which means we can often source empty legs for those wishing a private jet experience for special occasion travel.
We work with Flight Centre to secure the best available commercial flights and can match any price. Working with Flight Centre means we can also place commercial airline seats on temporary hold if necessary, while your arrangements are being finalised.
Our service of course includes transfers to your hotel or apartment and indeed, organising your time there, making reservations, curated experiences, or simply putting a personalised list of suggestions for you, based on your vision for your time there.
Experiences include the cultural highlights of this great Renaissance city. Whether your interests are in art, the arts, architecture, design, culture or cuisine.
We organise privileged access cultural masterpience private tours of the great museums and private collections, including the Vasariano Ponte Vecchio Corridor - the famous Medici route between the great Uffizi and Pitti Palace.
Our team includes Art Historians to bring the Renaissance to life through their expert narrative as they discreetly escort you through the Uffizi, viewing private family collections as well as the public displays. Then, the heart stopping moment of the doors to the Vasariano Corridorio being opened specially for you.
You will never forget the experience, of walking in the Medici Grand Duke footsteps, our Art Historians talking and walking you through the allegorical collection of these rarely seen paintings which line the walls of this historic space. Then, that view, above the Ponte Vechhio. Towards the Pitti Palace side of the corridor, the wonderful self portraitof self ofartists through the ages including an honoured selection of modern day artists. Pausing at the unexpected view into the Medici chapel before emerging at the Buontalenti Grotto, at the foot of Boboli and the Pitti Palace. It is an awe inspiring experience of Renaissance Firenze.
If you have ever dreamed of learning to cook authentic Tuscan cuisine, then we can organise wonderful afternoons in private Italian kitchens; or longer, for formalised cooking courses.
For those seeking an immersive experience of learning Italian or Italian Cultural Courses, then our private apartments proivde the perfect base for that, and we are able to curate the courses to specifically match your needs.
And that's just what we can do in Florence. Don't even get us started on Tuscany!

 
How Do You Get An Egg To Stand?
This great enigma was solved in Renaissance Florence in the building of the Duomo. Make the newly re-imagined Museo dell'Opera del Duomo your first stop in Florence. Spend a few hours immersed in the history of this architectural masterpiece, symbolic of the cultural greatness of the city of flowers.
Stand in front of the Gates of Paradise, be sure to watch the short film in the museum about the architecture and construction of the duomo itself, and the great history of Cattedrale di Santa Maria del Fiore. It should be a pilgrimmage for every architect and designer.
The Vasariano Corridoio
Enjoy privileged access to the Medici corridor above the Ponte Vecchio. Our Art Historians walk and talk you through the allegorical collection of rarely seen historic paintings and important self portraits.

The Southern walls of the corridor are surprisingly lined with self portraits of important contemporary artists. It's a wonderful contrast to the ancient self portraits and together display the spectrum of art, as each artist, in different times, but for the same walls, depicts their image of themselves or of the self.
This once in a lifetime experience is something that should be enjoyed again over time, because there is so much to see in these kilometres of the history of art, Florence and the world.

There are charming portraits of sisters eligible for marriage, the first single selfies, which were painted then taken around Europe on grand tours and shown to potential suitors.
 
The Unique Vasari View
This is the view from the centre windows of the Vasari Corridor. Above the Ponte Vecchio. Few get to experience this magical view of Florence, from above the Ponte Vecchio. Nice place of history to ask someone to spend forever with you?
Private Jet Charters to Florence are available by calling The Modern Concierge in London on 0207 060 1060.
Luckily there are some fine jewelers on the Ponte Vecchio, should something sparkling be required.
Uffizi Masterpiece, Vasari Corridor & Capezzana
After lunch, the Masterpiece tour includes access to the rarely seen Contini Bonacossi private family collection at the Uffizi, and then the Vasari Corridor Tour.
The day can be finished off with a 45 minute drive out through charming villages and towns of Capezzana, home of the Contini Bonacossi family, and their world regarded wine and olive oil estate.
You'll find it on the list at The River Cafe in London. A family member will escort your through the cellar and around the grounds of the house. This is followed by aperitivos on the terrace, being in the view above.
Vinsantaia is the garden kitchen restaurant, run by the new generation family, offering modern inspired Italian cooking. Soaked in their Tuscan tradition, and presented with a millennial touch. Dinner at La Vinsantaia di Capezzana is a moment in mindful eating - because you will be absorbed by the tastes and the good energy atmosphere, where they used to make the estate vin santo.
Capezzana serves a modern model of sustainability: historic houses on the estate provide agro tourismo rustic luxury experiences. Such as a 500 year old Medici Hunting Lodge, but with modern pool.
Tours of the wine and olive oil making processes, bring a greater level of understanding and appreciation, while the new generation family members are reimagining old spaces and purposes to create cultural eating experiences.
Our members stayed there in Summer 2015, resident in the New York and Bahamas. They were completely absorbed by the Medici history of Villa Trefiano, part of the Capezzana family, imagining life their 500 years ago, and this glimpse they had into then.
Private Apartments
We keep our own private apartments in Florence. It's a living there like a local experience. We can have delicious meals cooked for you everyday if required, or point you in the right directions if you want the independent Fiorintino experience.

 
Eat at In Fabbrica
Pampaloni is a great silversmith Florence, 10 minutes outside the centre. This historic family firm have collaborated creatively in silver skills with a list of the world's best designers. In Fabbrica is the factory canteen turned highly adorned restaurant by night.
The menus are a creative exploration in flavour and texture. The food is about juxtaposition as much as being Italian. The welcome through their private collection, featuring works of their labours and collaborations, enjoyed more with an chilled silver goblet of wine, sets the tone this wonderful eating experience. It's something else.
Camillo
We propose lunch and dinner while you are in town. This is the perfect idea of the Florentine dining room. It is thankfully busy with Florentine locals enjoying a smart meal together. if you visit for lunch and dinner you will have the experience of being welcomed back, which what eating here is really all about. Florence is very pet friendly and dogs are welcomed here. It's so civilised.
Tuscany Too
Our love affair with Italy, continues beyond Florence to the amazing hillside and coastal villas. Choose from the life-in-perspective austere luxury experience of staying in historic 500 year old country house or Medici Hunting Lodges. Or keep it luxe and up to date by taking a fully modernised pristine luxury villa or castle instead.
We can also show you beautifully formed tiny boltholes for two.
Vigliano
About 25 minutes outside Florence, Vigliano is the romantic story of a 500 year old Tuscan country house, being slowly restored and reimagined as place to call home for gatherings of up to 14 guests in the long summer weeks in Tuscany.
Villa Trefiano
Villa Trefiano is 23 kilometres from Florence. This Medici Hunting Lodge dates back to 1570. Like Vigliano, it's an historic luxury experience. It is part of the Capezzana estate, producers of wine and olive oil. (As featured in the River Cafe Wine List).
We organise cellar tours of the famous Estate, followed by lunch or dinner in their La Vinsantia garden kitchen, presenting new generation Italian Cooking. Arranging home deliveries of wine and olive oil to bring the taste back with you, should you wish.
ELSEWHERE IN TUSCANY
Of course there are many more villas and castles to choose from around Tuscany and we can help find your own idea of perfection.

For Tuscan stays we can arrange magical teams to take care of the cooking and shopping and villa services. Cars to drive, and places to see.
(You can arrange things like this with us, while you are also speaking to us about organising a work trip to Berlin or LA).
If you have always wanted to learn the Italian language in an immersive way, then we can arrange daily language lessons, cooking lessons and Introduced Italian film screenings during your time in Tuscany.

Cultural trips to Florence with special museum access and expert private tours can be organised. Architects can be accompanied by Architects on tours of city landmarks and masterpieces. Artisans can be shown Ancient Artisan Workshops and Lessons. Designers can have tours created to taste. Collectors can be shown private collections.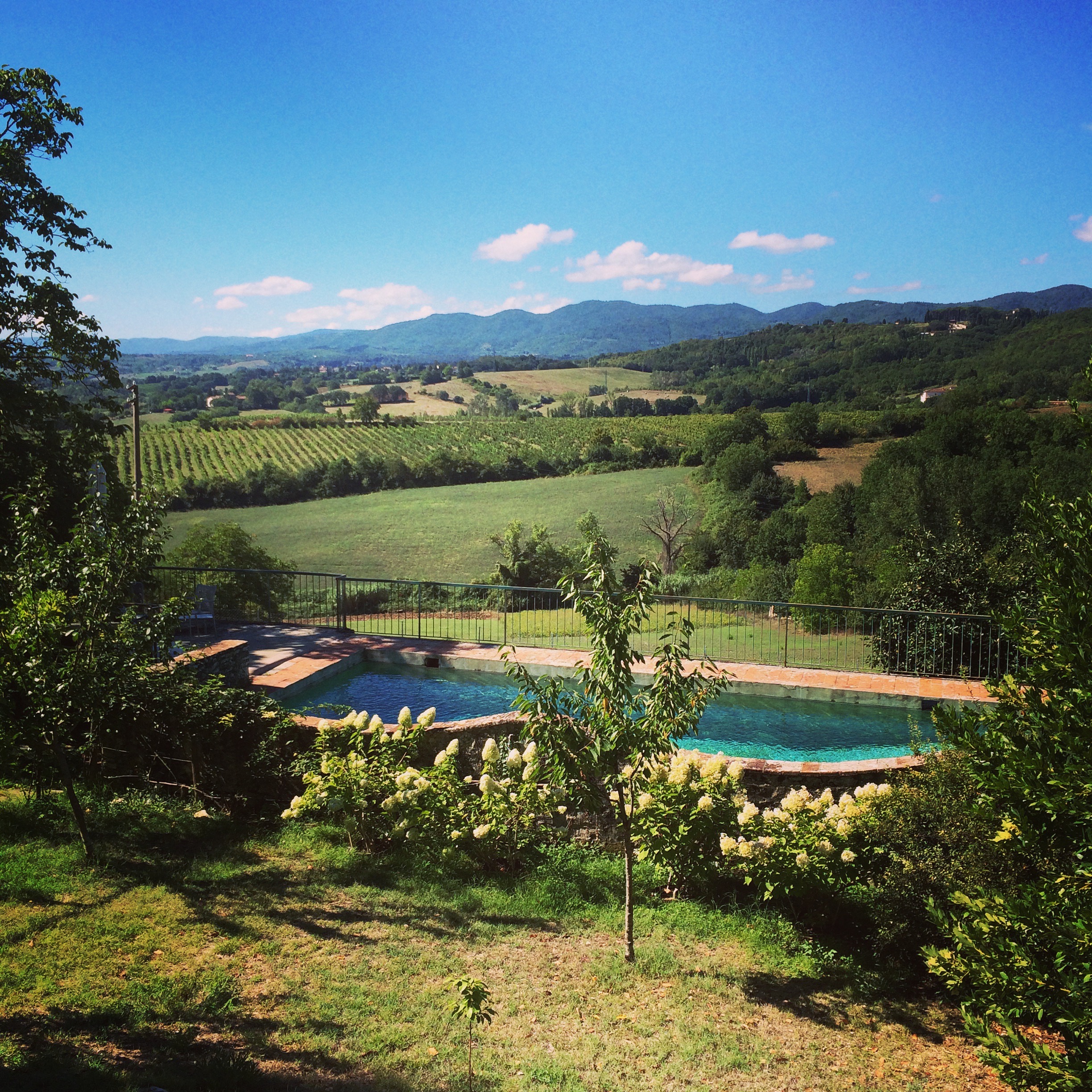 Vigliano
The Tank Pool View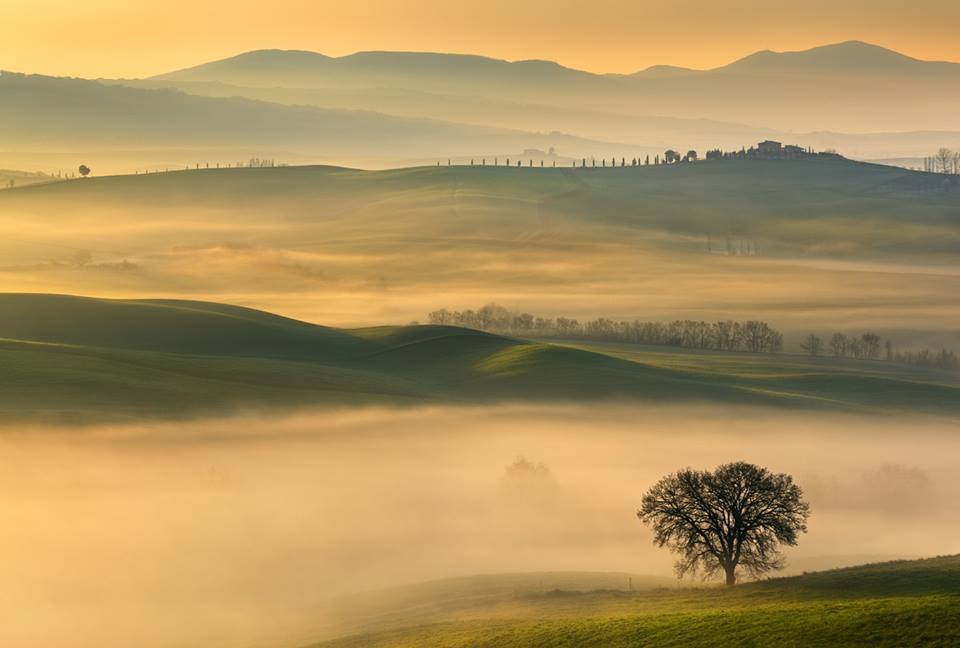 Tuscan Landscapes
Tuscany has so many heart breaking views. From marble mountains, to deep ravines, to the undulating hills that roll endlessly. There are beautiful gardens to explore, revealing the storied history of these hills and mountains.
Villa Pepi
Villa Pepi (Vigliano) sits above Rignano sul'Arno, about 25 minutes from Florence. Villa Pepi dates back to the sixteen century and was built as the country summer house of the aristocratic Pepi-Feri family - the great Traders who introduced pepper to Italy.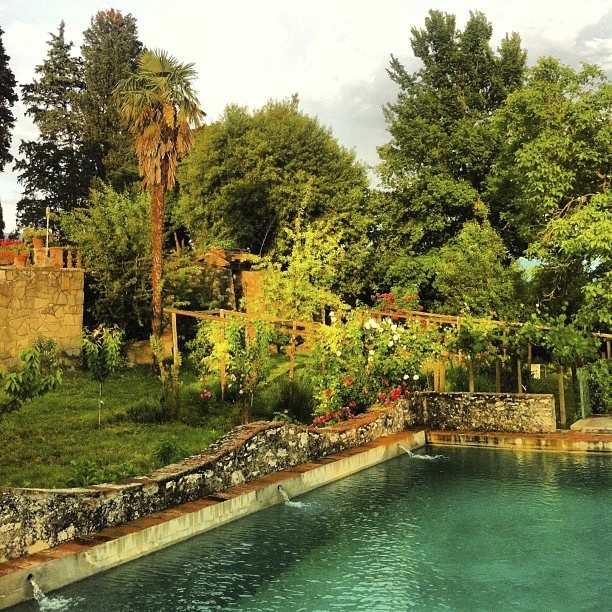 Tank Pool at Vigliano
The ancient water tank makes a wonderful fresh spring water pool for swimming, with a deck for cooling out on the hottest days. At the end of the summer, the great walnut tree bears fruit and eating fresh wet walnuts from the tree as your skin is drying in the sun is a mindful treat.
Quiet Time
Vigliano is a peaceful retreat for those seeing quiet time, or gentle celebrations of family and life's moments. The house can accommodate 14 treasured guests and of course welcomes well behaved dogs.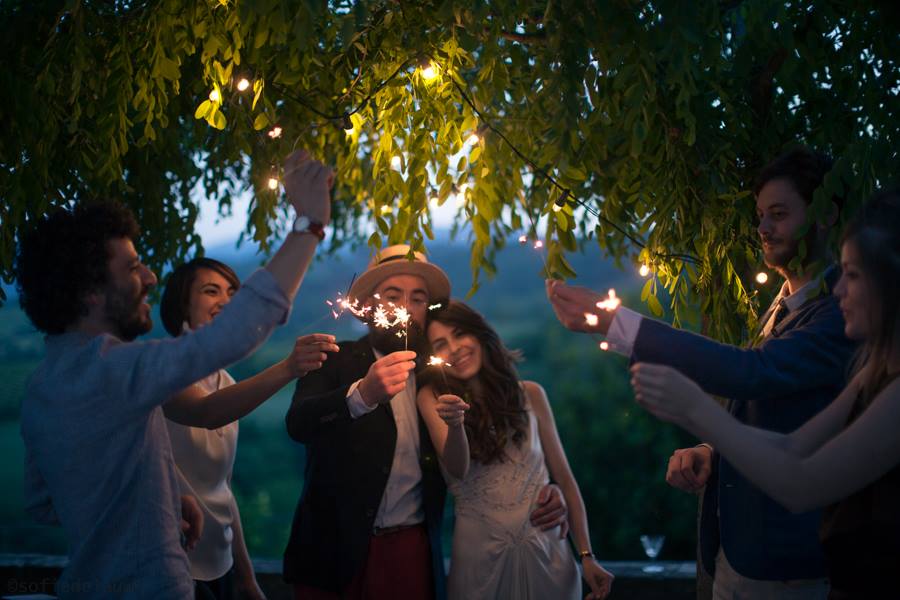 Sparkling Times
A week in Vigliano together is a really wonderful way to gently celebrate with family or friends. Having someone wonderful taking care of the cooking and shopping, balances the home from home without having to do it all yourself.
Ibiza
This will be our third summer of services. We work year round with lovely people based there to serve you a thoughtful take on Eivissa.
We only ever have a handful of clients on island at the same time. This is how we offer our elevated Ibiza experience and high levels of personal care and attention, throughout the year.
Of a certain age ourselves, we perhaps do not best cater for current party animals happy to pay the cost of rock star damages and party all night, every night. (Lucky things).
We present some very special villas that are available because we are able to vouch for our clients. We find beautiful places on the island.
Really we are here for those who might not yet have forgotten how to party, but instead prefer to enjoy the island's magical energies at a more gently rocking pace these days.
Appreciating amazing moments, delicious food, beautiful beaches, deep blue swims, Formentera boat days. And perhaps a bit of a party night or two, why not?
That Ibiza. With in villa wellness therapists, spa, private chef, driver.
Lunches out, dinners or party nights, beach days, private cooking for terrace lunches and garden dinners at the villa. It's a lovely way to spend a week.
Every Ibiza experience is a unique selection for you. We suggest different days of the week and different hours of the day for the same place for different clients. It's all about the experience you want.
We suggest the Ibiza edit most suited to you.
La Paloma, ECC Beach Club, PK2, Cala Bassa Beach Club, Rumours, Pikes, Ibiza Angels, Fish Shack, Lio, Heart, Ibiza Gran, The Giri, DC-10. Las Dalias. Benirras forever. Sunset Ashram. La Oliva. WildBeets. Beso Beach. Radici. Raco Ibiza. And so many more people, places and things.
This year also, Coricancha for sunset sushi on the Salinas salt flats. Sunny days at sea on the Vanquish 43 to Formentera or around the coast for a different sea day. And always Es Vedra Full Moons on the water.

Recommended restaurant bookings & VIP Tables and reserved areas when you wish to go out. Or hardly ever leave the villa. We arrange it all as you want.
Stay in a hand picked house. Our exclusive selection of villas across the island each offer their unique take on spending time there. Its's all about the Ibiza you seek. Our #VillaFinder service locates the sea, sunset or campo landscape view you are dreaming of.
From re-imagined ancient fincas (fit for the Prime Minister) to the temples of modern architecture synonymous with Ibiza villa stays. Perhaps Tagomago priavte island, or even a villa set on it's own private mountain.
Simply speak with us to have it all and with our #VillaFinder service, beautifully done for you.
Ibiza is seeped in ancient history and modern times there are equally mystical. From the magnetic wonders of Es Vedra, to the good energy of the wellness practitioners there, we create magical vacation experiences, all coordinated from our Shoreditch headquarters.
We also love creating expert wellness programmes around your stay and schedule. Your own bespoke retreat when your Ibiza time is more about wellness than a vacation.

We are excited about the forthcoming launch of Ibiza private jet summer services. The Modern Concierge #IBZ16JetCard, powered by Air Partner, which launches from the last week in May.
This one-of-its kind fixed price JetCard, offers private flyers guaranteed aircraft price and availability even at the peak heights of the summer season. (Ibiza becomes one of the busiest private jet airports in the world during the month of August).
On our Instagram we share latest villa availability and private jet empty legs throughout the season.
Our #VillaFinder experience includes our concierge services on call for the duration of your time with us on the island.
The beauty is that you can organise everything via a single trusted point of contact, which leaves you to concentrate on enjoying Ibiza.
Clients also ask us to help them with property searches on the island, or plots of land for sale.
Whether it's private practice with the best yogi on the island, or a fast boat for a Formentera beach lunch, it's all a call away.
A Gentler Ibiza
Looking after only ever have a handful of clients on island at the same time, is the secret to our elevated Ibiza experience, a rare level of personal care and attention..
This ensures we maintain quality. The best drivers, restaurant and beach availability, and also accessing the smaller happenings we hear of.
Our Ibiza points towards the quieter places, as well of course as the Ibiza classics. In villa we provide a full range of services, with a fine menu of options. Family cooks, private chefs, pop-up parties or impromptu bbqs.
We offer our #AllWaysIbiza #VillaFinder clients #IBZ16JetCard access which uniquely offers fixed rate private jets between Ibiza and London.
The villas we show are not available as a collection anywhere else, because we work with a unique network of villa ninjas on the island to give you an authentic Ibiza villa experience. From ancient fincas to modern architecture temples.
We take care of the experience from start to finish, from booking boats to Formentera lunches, to diving or island cycling while you are there.
The point is, you just have to speak to one person to get it all done the way you want it.
Beso Beach, Formentera
Such a laid back place to enjoy the dazzling waters of Formentera, with a keep it simple vibe.
Scotland
The Modern Concierge has roots firmly in Scotland. We are proud to present a portfolio of the very best Scotland has to offer. From the most romantic idea of a Scottish Castle, for a wedding, clan gathering or corporate event. Sumptious country or coastal houses and the finest hotels of this beautiful country.
You can walk from the plane to the golf course, take a motor yacht or sail up the West Coast (just like Mr. Abramovich did in the Summer 2015) or experience the alchemy of making whisky with the ultimate malt experiences.
The great outdoors of Scotland offer the great pursuits of the sporting minded. The fun of archery and clays in the garden. Over head casting lessons, and private fishing beats can all be arranged.
The famed NorthCoast500 offers breathtaking scenery for those seeking the spontaneity of classic car self driven or chaffeured trip around this drivers road.
Go to the islands and see the beaches there, and the rare serenity of these lesser inhabited lands. The Mull of Kintyre, or a loch locked private island.
In a single call to us, these arrangements can be made, even at short notice. We can take care of the transport (planes, trains, automobiles), accommodation and experiences.
Happy Landings
Sea planes are great way to arrive at lochside hotels and houses. Also a wonderful last moment surprise to start or finish an escape in style.
Cameron House, Loch Lomond
Such as this beautiful Scottish Baronial mansion hotel, Cameron House on Loch Lomond. Closeby amazing golf courses, days out on the loch, lunch at Loch Fyne a beautiful drive away and of course the amazing spa and heated pools at the hotel.
On Loch Awe, Ardanaseig Hotel
This luxury bolthole has extensive gardens. Foraged herbs have been on the menus here since the late nineties. The jewel coloured interiors sum up the indulgence of a break away here.
Ardanaseig Hotel
Perfect for two lovers to catch up with each other.
Chopper In & Out
For inland hotels and further away places, this can be a sensible as well as thrilling way to arrive and depart.
Landing at Aldourie Castle on Loch Ness means you can look for Nessie on the way in.
Loch Fyne Oyster Experience
Enjoy a private dining experience at Loch Fyne - home to the famous Loch Fyne Seafood company. Tour the oyster beds, learn how to open oysters and finish with a Loch Fyne seafood feast.
The Art of Whisky
Head to Jura for a private distillery experience, learn about the alchemy and art of whisky making and enjoy the Jura Lodge.
Isle of Eriska
The private island is accessible via this bridge. The noise of the tyres on the boards lets you know you are arriving at this beautiful luxury island hotel.
The Mull of Kintyre
Take the beautiful Carskiey estate house or the sweet shore side cottage and disappear to this gulf stream beach headland, immortalised as a place for lovers to be in love.
The Jura Distillery
The explore the historic Isle of Jura, yes the distillery but also the wildlife and pristine beaches.
Glen Affric
Stunning views from this lovingly restored Scottish country house and sporting estate. Scotland has great possibilities for multi generational and larger celebratory gatherings.
Acmelvich Bay Beach
This is Scotland.
'Saltire' by Artist Gene Bible
This 5ft x 7ft acrylic on canvas is a private commission by Artist Gene Bible. www.genebible.co.uk
Jamaica
Oh this wonderful island! Forget everything you know about Jamaica except Bob Marley and think again. Jamaica is another love of The Modern Concierge and our knowledge is that of those who have lived there.
Jamaica is for the adventure minded and we can show you the Jamaica that drew the early jet set, and the place that has barely changed since they were there. The magical Port Antonio.
Land in Kingston, take the helicopter to Strawberry Hill and catch your breath high in the Blue Mountains, above the twinkling lights of Kingston, as the city beats below.
Sleep at Strawberry Hill in the luxe lap of Jamaican cool. Or go native from the get go, and sleep nearby at the eco minded magical Mount Edge Guest House. The world famous rambling shacks and award winning farm to plate foodie experience of EITS Cafe.

When you wake the next morning, you will feel a different kind of alive and the real Jamaican adventure can begin. A 3 hour 4x4 safari through the Blue Mountains, stopping off for impromptu waterfall swims and roadside street eats, lunch along the way.
Along the stunning north coast highway, surely one of the great drives of the world, towards the gentle parish of Portland and the enduring allure of old school Jamaica, to Port Antonio.
Our home there is Kanopi House. Imagine a 5 bedroom villa, of beautifully crafted, hand turned wood as a series of eco luxe treehouses gently perched on stilts, within a 6 acre private rain forest paradise, with shores on the mythical Blue Lagoon.
The house can accomodate uo to 10 people, with 5 bedrooms across 4 spacious treehouses, and The Living room, the gathering place.
A water pavilion provides plunge access to the water. The Blue Lagoon (where they filmed Cocktail) is fed by 14 fresh water springs as well as the warm waters of the Caribbean sea. The experience of diving in and feeling the warm then cool layers of fresh and saltwater thermoclimes is part of the magic of being there.
Jumping off the enormous Almond Tree into the deep waters, quietly paddle boarding around the lagoon, just taking it all in. Or exploring the reef and Monkey Island by kayak, snorkelling and resurfacing.
Take the boat to the beaches around the headlands, or git the road and explore farther.
Either a couple or family taking just one treehouse, or a larger group taking the entire property for exclusive use.
We organise unforgettable day trips, putting as much or as little into each day as you like. It's a special kind of magic, to just spend the day on The Living Room day beds, gazing over the tree tops to the sea beyond, and being immersed in the sounds of the forests, roots reggae gently playing on the Bose.
Ah, Jamaica. Soon come!
Strawberry Hill
3,000ft High in the Blue Mountains above Kingston. Make a night stop at Chris Blackwell's historic Blue Mountain retreat.
Mount Edge Guest House
A legend on this island; Mount Edge is a mystical, magical place. Home to the farm to plate, award winning EITS Cafe and eccentric, ramshackle, marvellous guest rooms. For the Adventurers.
Blue Mountain Safari
Load up the 4x4 and take the lesser traveled back road route over the Blue Mountains towards Port Antonio...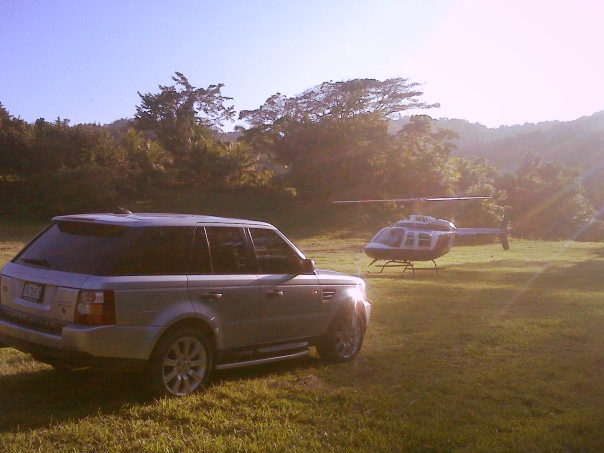 Or Chopper In
Thrilling way to arrive in Port Antonio from Kingston, with a car waiting ready to take you to a jungle paradise....
The Enigmatic Blue Lagoon
Feel the hot Caribbean sea and cool freshwater thermo-climes against your skin as you dive in to the Blue Lagoon, from the private shores of Kanopi House.
Amalfi
Few places on earth stir the soul as the Amalfi Coast. The Modern Concierge Amalfi experience spans the spectrum of independent private travel. From low maintenance, classic Amalfi drive-yourself road trips to short or extended stays in the greatest luxury hotels, islands and private villas.
Secret Praiano view...
While many clamour for Positano, we suggest Praiano - only a short drive along the coast. The view here is across the coastline back to Positano. Our suggestions start with private apartments in Praiano, and we believe, the best view there is mixed with the independence of self catering.
Looking back at Positano, over the Li Galli islands, towards Capri in the distance. Or if it absolutely has to be a luxury hotel experience, then of course we know the very best and can plan a wonderful route for you with well informed stops and stays along the coast.
Have Caruso sandals handmade for you in Ravello, while you explore the views and gardens of historic Villa Cimbreo. Meet the Artist Paulo Sandulli in his torre studio. Take the boat to Capri, stay there, or come back in a day., stopping to take the waters around Nureyev's Li Galli.
Be driven, drive yourself along the classic coastal route or be radical even and take the reliable buses for days away from base camp.
Land in Naples by BA, Easyjet or take a private jet. We take care of you from the moment you land until you depart again.
The Amalfi Coast should be experienced at least once in your life.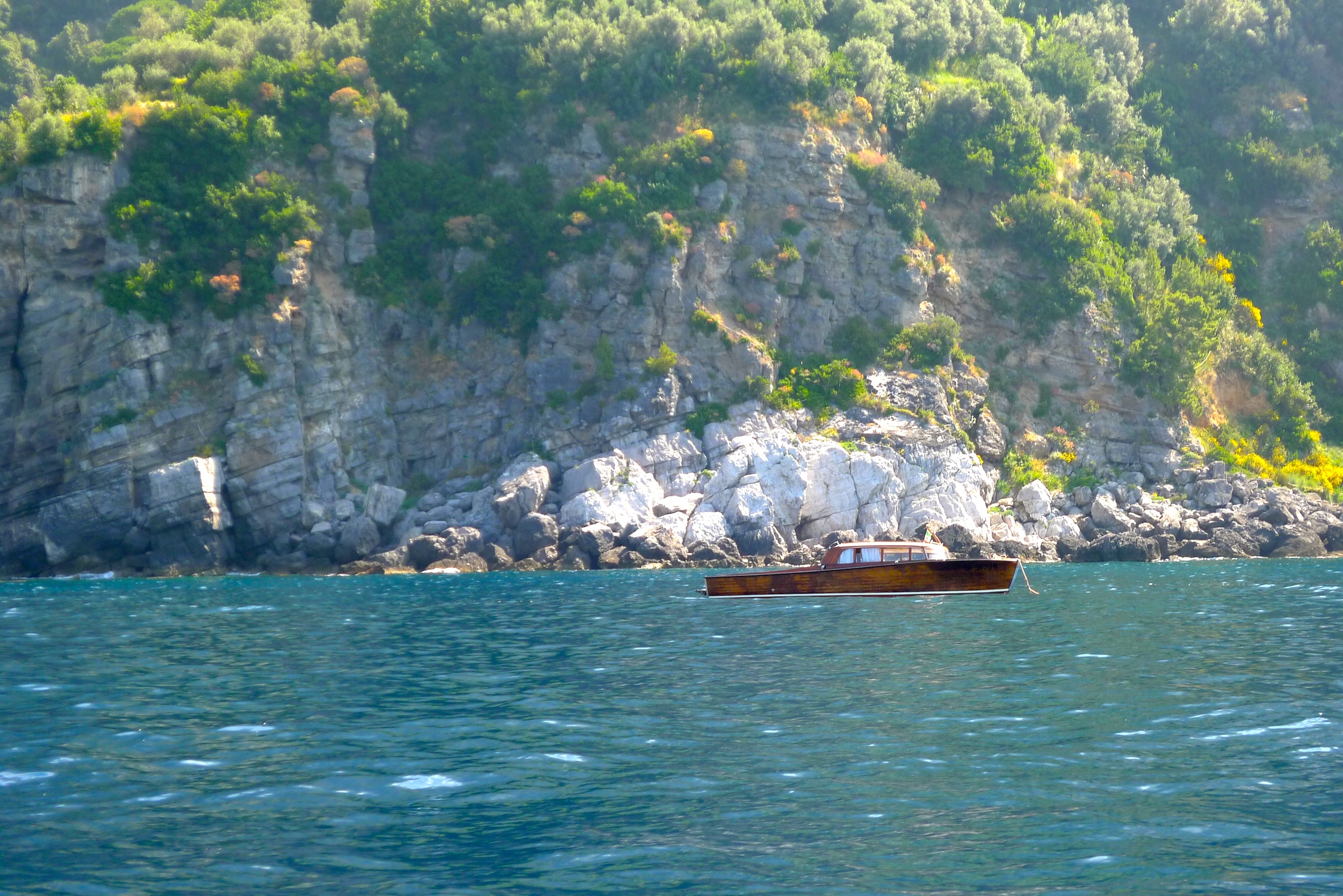 Amalfi Coast
Land in Naples, and wind your way along the Amalfi Coast. Hit the hot spots, or expertly navigate a less travelled road. Above all, be sure to include some time on the water and head to Capri, if only for the day.
A Secret View
Almost everything good on the Amalfi Coast involves lots of stairs, but the legwork is always well rewarded. For those seeking a more independent road trip, this is the view from our secret self catering apartments. Two well appointed rooms - with in room soaking tubs - open out to this Amalfi view towards Li Galli and Capri beyond.
Wellness
Successful modern living requires a mindful approach to wellness. We connect you to an advanced network of acknowledged wellness leaders and services. Advisors, Therapists and Coaches. Experts across the wellness spectrum.
Convenience plays a big part in maintaining a healthy balance within a hectic lifestyle. Our service connects you with the leading practitioners closest to you, whether you live in East London, Notting Hill or just visiting.
#teamNewMe
When it's time for change and you are looking for new personal outcomes. From expert coaches to simply introducing regular massage to an intense schedule. Our value is in matching you with the experts already providing leading wellness services to others in your circumstances.
#PersonalBest
The final extension. When it's time to soup up or super charge your already advanced fitness regime. Perhaps towards improving your sport or achieving body goals. To invigorate a plateau or intensive training needs. Help with the golf swing, or build muscles for horse-riding. When it comes to wellness served with realness, we say call BodyStudio.
#Skills
Perhaps you just need to learn to cook for eating well, or find out what food groups work best for you. All towards healthy living.
Small Group or Bespoke Private Retreats & Tuition
We are part of the team behind www.silverliningsretreats.com - an invitation only private retreats company. An evolved collective of wellness leaders offering multi format personal retreats.
Drawing thoughtfully on an effective mix of yoga, pilates, stretching and Hit Intensity Training methods. The 'barrecore burn' is achieved with signature barrecore techniques as a key element of the practice.
One to one practice is switched up with small group sessions, building skills and confidence in the techniques. Bodies are balanced energised through massage throughout the week's retreat.
Silver Linings provide a wonderful service of private retreats at your home, villa or corporate event. The service is available on a bespoke basis around the world, offering London level expertise where you are.
This is can be a rather fun alternative to usual house parties or simple spa days. Instead, Silver Linings offer the possibility of blending wellness into your vacation plans, to help ensure a healthy glow.
Created by ex-Royal Ballet Dance, Chrissy Sundt, together with Kasia Gdowska, a world leading massage therapist. They felt others would share their ideal of holistic retreats taking place in natural, magical settings around the world.
The latest small group retreat took place at Kamalame Cay private island in the Bahamas in association with Sweaty Betty, Radiance Juice Cleanse and barrecore. Nikki Rein, founder of barrecore, specialliy created paleo basedand barreNOURISH menus for the retreat.
( Next retreat at Kamalame Cay is 13-20May 2016, from £4.775pp )
Silver Linings also run mini-retreats called 'Catch a Silver Lining'. These complimentary morning retreats are hosted at various locations, and presented in association with expert partners and leading wellness brands.
Body Studio, Shoreditch
BodyStudio is the leading private coaching gym in Shoreditch. Athletics Masters Gold Medalist Margie Pope owns the BodyStudio and runs a team of Medalled Olympians and current Athletes who are each experts in their sport and specific body objective based training techniques.
Tell them you want to be a better skier and they will strengthen the right muscle groups and movement flexibility you for that. From better golf swings, to increasing lengths in swimming, or long term rehabilitation with an onsite physio and ultrasound clinic.
Margie works will a stellar private client list, often travelling with clients to offer daily private coaching and nutritional support on vacations or personal retreats. This is very much a straight forward approach to fitness and champion mindsets.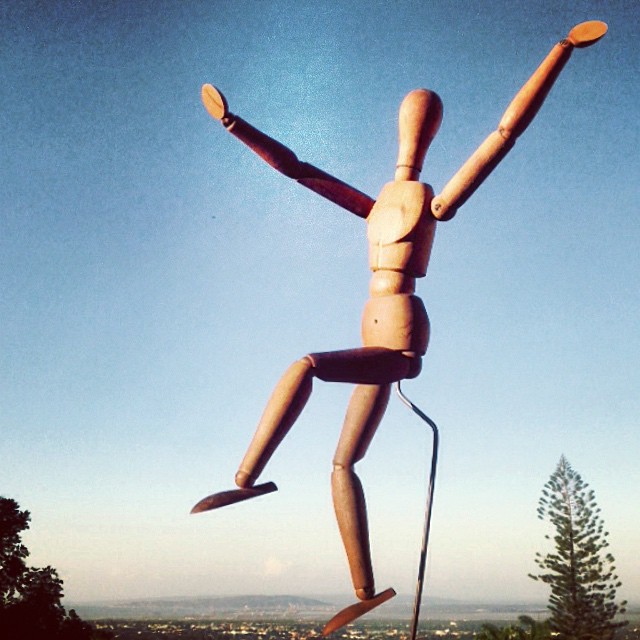 Silver Linings Retreats
As recognised wellness experts Chrissy Sundt (Royal Ballet, barrecore, HIT) and Kasia Gdowska (massage) both felt the market had space for an artisanal wellness brand, where an evolving collective of leading partners and expert practitioners come together in magical places around the world to deliver multi-format wellness retreats for invited small groups.
Follow @SilverLiningsRetreats on Instagram and Twitter for ongoing wellness updates and retreat news.
As featured in FT How To Spend IT
The first Silver Linings Retreats wellness collaboration brought the barrcore method and Nikki Rein's specially created barreNOURISH menus, bespoke island inspired juices from Radiance Juice Cleanse and equipment by Sweaty Betty. The 7 day 7 nights retreats are held at Kamalame Cay private island in the Bahamas.
The approach of the retreat is to address physical wellness through new movements, nourishing food and re-balancing, re-energizing the body through massage therapy. Releasing the mind through meditation and an abundance of gentle 'me time'. Mind, Body and Soul.
We were delighted to announce the next retreat on Kamalame Cay from 13th - 20th May 206. To book call the Modern Concierge in London on 0207 060 1060.
Full details at www.silverliningsretreats.com
These quotes sum up our thinking
Private Dining
Private Dining doesn't just mean private dining rooms. It could be having a famous chef cook dinner privately for you at home, as much as at their restaurants or chef table.
Or, perhaps you might be thinking of something even more private than that, such as a delicious picnic for a romantic moment somewhere.
We can also deliver food from the finest London restaurants to be delivered to your jet, if it's a rather fabulous take out you'd like us to organise.
We can organise private dining anywhere in the world. Even if that means flying your favourite chef halfway across the world, for a landmark celebration in your life.
Perhaps all you need to know is that all these options are available to you by simply calling us in London on 0207 060 1060.
**Please note that Private Dining services are only available to our members and corporate partners.
Garden Lunches
Themed to suit the moment, and as simple or as fancy as you like.
Feast Tables
Here, the stage is set for a feet in the sand beach feast, lit by candles and tiki torches on Kamalame Cay, Bahamas.
Picnic for Two
Maybe it just a hamper packed with your chilled favourite and some select cold cuts when its time to savour a moment together. This is the kind of thing you can magic up in a call to us. Just not at 1am in the morning please!
Celebrations
Whether your event is celebrating a private moment in your life, among gathered friends and family. Or if you want to organise a memorable business event. We can bring our decades of experience in event organisation, working with leading specialist delivery partners depending on the size, complexity and design.
Working independently like this, gives you the assurance that you are working with a personally assembled best team for your needs.
Our event services extend include full social media support, establishing hash tags and helping with identify opportunities to either publicise the event, or keep it entirely private through invite only social media groups.
Should you require assistance with printed invitations or online solutions, we can show you all the options.
Through the years we have organised events in many countries, and of all scale. Perhaps the most complex, in a previous incarnation was Event Director responsibility for Vivienne Westwood fashion show in front of an audience of 2,500 people.
Exclusive Use
This is the truly awesome Palladio Bar in Jaipur. Set in the gradens of a summer palace and owned by an Italian designer who moved to Jaipur some years ago. Palladio is perfect for a wedding or landmark celebration party, against the magical backdrop of Jaipur.
#IBZ16JetCard
Powered by Air Partner plc
(In addition to the Ibiza JetCard, we offer private jet services around with world, powered by Air Partner).
To Ibiza, we offer three options to best suit you:
#IBZJetCard powered by Air Partner.
With more than 24 hours notice, access the certainty of fixed prices and guaranteed aircraft availability throughout the season. No other company in the world offers such guarantees.

Flights can be cancelled up to 7am the day prior departure without penalty. Choose the aircraft category and a choice of morning, afternoon or evening departure windows to best suit you.
Light Jet ( 6 seats)
Midsize Jet (7 seats)
Super Midsize Jet (8 seats)
Larger Jet (10 seats, with Cabin Attendant)
AM window (0700 - 1200)
PM window (1201 - 1800)
EVE window (1801 - 2359)
Prices start from GBP11,950 for a six seat jet, full inclusive of catering and all airport charges.
Flights operate to and from Ibiza from your choice of private London terminals at Luton, Farnborough and Biggin Hill. Departures from other UK and European airports are available, subject to individual pricing.

In the same call we can organise your onward ground transport arrangements and have your car waiting when you land.
Our speak to us to beautifully arrange your entire Ibiza experience in a single call.
The #IBZ16JetCard
Available to @TMConciergeClub members and clients of Air Partner plc.
The #IBZ16Jetcard is available to non-members booking Ibza - London flights via our selected partners in Ibiza.

A service fee of eur500 is payable locally. This includes private transfers from your villa to the aircraft for flights home from the island.

(UK transfers not included in this price but an be organised).

No additional private jet booking fees apply to clients of Air Partner and current @TMConciergeClub members.

 
Not Just Private Jets
Our services include being able to make your commercial flight bookings. This includes assistance with wait listing on full flights, as well as being able to place flights on hold while arrangements are finalised.

Our 'from Easy Jets to Private Jets' campaign is how we launched our services on the island in 2014.
Make It Easy on Yourself
Our special relationship with Air Partner means we can make the entire process of flying as easy as possible. In these days of heightened security and diminishing airport experience, flying by private jet completely changes the take off and landing experience, getting you to the beach as soon as you land.
JETS OF ALL SIZES AVAILABLE
Speak to us for advise about the right size jet for you. When chartering your own aircraft it's not just about the number of seats on the aircraft.

The combined weights of all passengers and luggage can often mean than 6 people need an 8 seat jet. Luggage is best kept light and soft sided if you want to minimise the size of plane required.

Of course, Air Partner plc can access any size jet, including 75 all business class seat configuration Boeing 757 jets.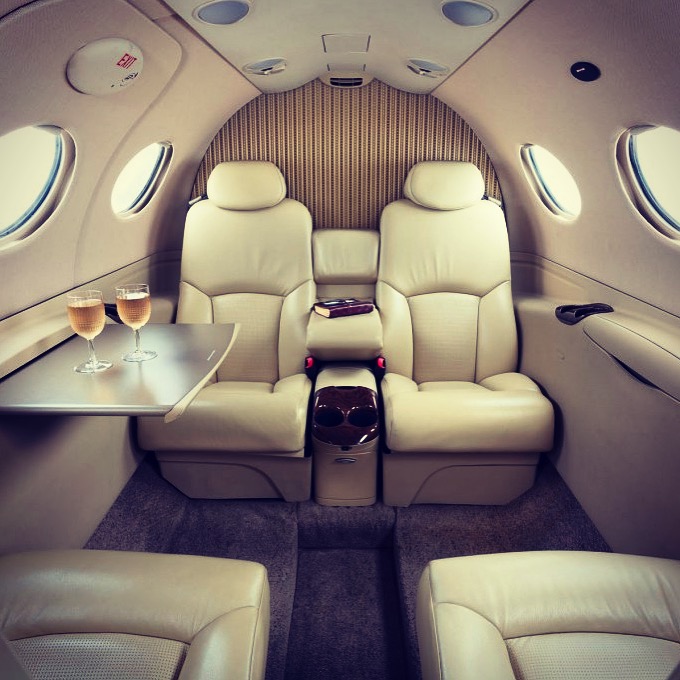 Just the two of you?
A very light jet, such as this Mustang pictured could be perfect with guide prices just over GBP8,000.